Sapa Express – KS 5 stars Hotel De La Coupole – Silver Waterfall – Ta Van / Ta Phin / Cat Cat – Conquest of Fansipan
Tour Bac Ha Market – Y Linh Ho – Lao Chai – Ta Van 2 days 1 night (departing from Sapa – Overnight at hotel)
Free & Easy Travel Sapa with Sapa View Hotel 3 stars 2 days 1 night
Everywhere in Sa Pa winter has the fog hang around and denser makes the Sa Pa town landscape are being ethereal, mysterious. There are some houses appear and disappear alternately in the fog, the ancient palace adjacent the West architecture modern villas, or the tottery houses on the mountain slope in the Sa Pa town. When come to Sa Pa in the winter if you're luky person you will have chance to see the snow is falling down, covering the snow puppet by your self, just in the European countries.
Winter in Sapa often lasts from December to February when the weather can become extremely cold, even leading to snow falling sometimes. This is also a fascinating feature which makes Sapa even more appealing to visitors. During these rare high peaks, the town is inundated by flocks of tourists both foreign and domestic longing to witness snow and make a life-time memory.
In December, Sapa is cold and foggy with ocassional sunny days when the view is much better. Temperature sometimes drops below freezing point while all the town seems to be covered in ice, creating such a picturesque scene to contemplate.
January is often the coldest month in Sapa when the weather seems to be foggy and cloudy all the time. Daily mean temperature is only 8°C, providing an exciting opportunity for one who can endure the coldness.  The weather gets a little warmer in February, as the potential sign of an upcomming spring.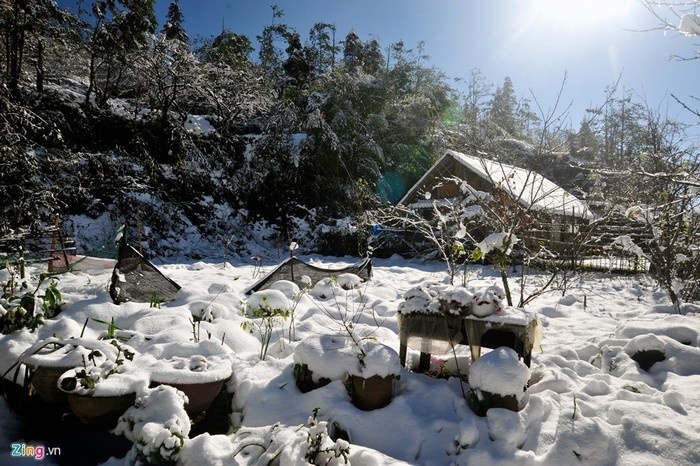 If you come to Sa Pa you should try the grill foods, especially in the cold weather of Sa Pa winter sit by a cooking fire to enjoy the popular foods such as the potatoes, the cassavas, the bamboo-tube rices, the meat roasting-jacks… or sitting by a Thang Co hot pot, salmon or sturgeon hot pot to sip wine with friend toghether, you'll feel the frosbite cold of Sa Pa is suddenly disappear.
The Sa Pa winter sightseeing in the ethereal foggy will make you to have the interesting experience and discovery. You should not to overlook the nice places to visit in your trip such as: the Ham Rong mountain, the Cat Cat tourist area, the ancient rock, the Hoang Lien national park, the silver water fall, the heaven gate…