The Don vegetables is a specific food, the original forest gift of the  highland ethnic minorities people in many areas of the country. The Giay people called piec cut, the Thai people called "pac cut" it look like the fern but big body, the leaf canopy is wider, green as grass.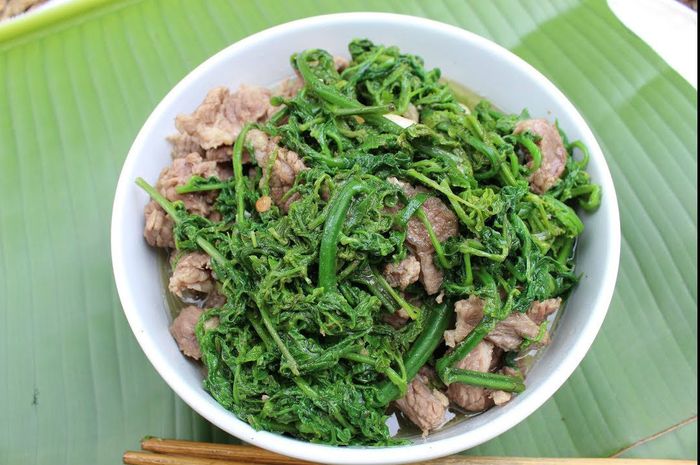 The Don vegetables often grows along the banks of a streams, on the rocks. The Don vegetables is a special forest vegetables are many people like and it also a vegetation used to treat some common diseases like colds, cough, sore throat, diuretic, anti-constipation … in some countries they used to simmer for the child bearing women drinking.
Every year, the flood season with the muddy waters from the source falling down  carrying the alluvium manure for a patch of Don vegetables is more fresh and  preparations for a cycle of buds and shoots burst, this time is the vegetables has many tender buds,  So, after the flood season until the end of the spring is the best time for eating Don vegetable . The Don tender leaf  bend like the heliotrope, mucus resin, green all the year.
It is often pick the top of tender vegetable only, the medium leaf  to make the sweet and sour grated salad, fried meat, fried with peanuts or boiled. My childhood is also associated with the streams to find and pick the Don vegetables, every afternoon I pick a sheaf of Don vegetables for cooking dinner. In the old days  this food didn't popular like now it just a wild vegetables, it's being the highland ethnic minorities people picking to cook like the daily food of the family. This vegetables has become the specialty food that many people like.
When come to visit the highland fellow-citizen the visitor are looking for the local specialities food, it cannot lack of the Don vegetables if come to my native highland. This vegetables become the specialities food because it super-clean, that the restaurant always pay attention in the menu, because this vegetable is nature grows under the wide leaf canopy, in the high humidity place.
Now, the Don vegetables has become the specialities food of the city, even at the luxurious restaurants, not only that almost at the local market has selling the Don vegetables at this time. Let experienced to picking and enjoying this specialties vegetables in my highland hometown to feelling the sweetness and the fragrance of the northwest mountain and forests.